No products were found matching your selection.
Tackle Crafters Fishing Brands Clothing and Fishing Brands Apparel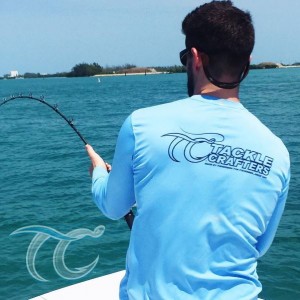 Tackle Crafters is your premier source for limited-edition saltwater fishing apparel brands.
We offer trucker-style mens fishing hats, high performance fishing shirts, and multi-color fishing brands clothing face buffs.
Our dedication to exceptional customer satisfaction is second to none in the fishing brands apparel industry. Family owned and operated for decades, we prefer to produce a smaller range of higher grade fishing brands clothing and saltwater fishing apparel products to ensure that each item meets OR EXCEEDS our rigorous standards for style, comfort, and performance.
Tackle Crafters performance fishing brands apparel and sport fishing brands clothing looks great but FEELS even better.
Best of all, our sport fishing apparel retains its high performance qualities and strong comfort levels no matter the fishing conditions, so that you can feel good for the duration of your trip.
Fish Gear Apparel: Mens Fishing Hats
Our Tackle Crafter mens fishing hats come in two styles including: the black trucker hat and the washed gray and black trucker hat. Both fishing hats from our fish gear apparel line are perfect for keeping the sun off your head and face while providing a stylish look that complements the rest of our sport fishing apparel options.
Don't leave shore without something to protect your head. Our men's fishing hats are the perfect accompaniment to any fishing trip.
Fish Gear Apparel: Mens Fishing Shirts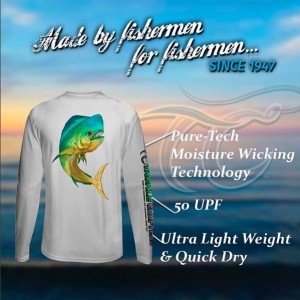 Made by fishermen for fishermen.
Pure Tech Moisture Wicking Technology
50 UPF
Ultra Light Weight
Quick Dry Material
Tackle Crafters long sleeve performance fishing shirts from our fish gear apparel line feature a lightweight, quick-dry microfiber technology that wicks away moisture to keep you comfortable and protected from both wetness and the sun for the duration of the trip. Fishing is rigorous and you don't need any extra issues from your saltwater fishing apparel, which is why we custom designed and manufactured our performance fishing shirts to be the perfect complement to any saltwater fishing trip.
These durable mens fishing shirts come in three styles including: The Mahi performance mens fishing shirt, the Redfish performance mens fishing shirt, and our trademark Tackle Crafters Logo performance mens fishing shirt.
Best Saltwater Fishing Apparel Brands of 2016
New for 2016, Tackle Crafters is proud to now offer face shields that epitomize high performance saltwater fishing apparel. Exceptionally lightweight and breathable, our performance fishing apparel face buffs feature the same quick-dry fabric that our performance fishing apparel shirts are made of.
Whether you prefer the burnt orange, carbon fiber design, or the green and blue combination, you will love the look and feel of whichever sport-style saltwater fishing apparel option you choose.
From fishing brand hats and high-performance mens fishing shirts to top quality performance fishing apparel options like our line of face shields, Tackle Crafters proudly stands behind every item in our fishing brands clothing line.
Fish gear apparel needs to be the right blend of performance and feel. From quality to durability, style to performance, our saltwater fishing apparel brand stands head and shoulders above the competition, which is why we are trending into the conversation as one of the one of the best up and coming saltwater fishing apparel brands of 2016.